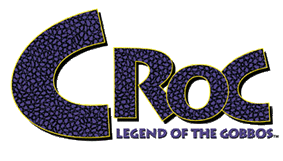 For detailed information about this series, see: Croc: Wiki of the Gobbos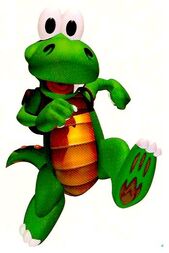 Croc is a series of video games by Argonaut starring the titular crocodile.
Released games are:
Croc: Legend of the Gobbos (September 29, 1997) for PlayStation, Sega Saturn, PC. Also adapted in 2000 for Game Boy Color. Known in Japan as Croc! Pau Pau Island.
Croc 2 (June 30, 1999) for PlayStation, PC, and Game Boy Color. Also adapted in 2001 for Game Boy Color.
Croc Mobile: Jungle Rumble! (September 2005), mobile phone.
Croc Mobile: Volcanic Panic! (2006), mobile phone.
Links to other series
| Direction | Series | Date | Description | Type |
| --- | --- | --- | --- | --- |
| | Tomb Raider | | A promotional image of Croc features a reference to Lara Croft. | 3 |
| | Crash Bandicoot | | A promotional image of Croc features a reference to Crash Bandicoot. | 3 |
| | Mario | | A promotional image of Croc features a reference to Mario. | 3 |
| | Dragonseeds | | Having a saved data of Croc unlocks the special "Gator" dragon in Dragonseeds. | 3 |