For detailed information about this series, see: Creatures Wiki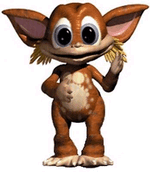 Creatures
is an artificial life computer program series, created in the mid-1990s by English computer scientist
Steve Grand
whilst working for the Cambridge video games developer
Millennium Interactive
. Gameplay focuses on raising alien creatures known as
Norns
, teaching them to survive, helping them explore their world, defending them against other species, and breeding them.
There are 8 main titles in the series, with a ninth currently in development. There are also 6 game bundles featuring various combinations of Creatures games.
Video games
Main games
Creatures (November 11, 1996), Windows, PlayStation, GBA.
Creatures 2 (September 30, 1998), Windows.
Creatures Adventures (October 7, 1999), Linux, Windows, Macintosh.
Creatures 3 (November 4, 1999), Linux, Windows, Macintosh.
Docking Station (March 27, 2001), Linux, Windows, Macintosh.
Creatures Playground (November 11, 2000), Linux, Windows, Macintosh.
Creatures: Raised in Space (May 14, 2002), PlayStation.
Creatures Online (in development), Windows, Macintosh, iOS, Android.
Compilations
Creatures Trilogy. Includes Creatures, Creatures 2, and Creatures 3, as well as the Life Kit addons for the earlier games. 
Creatures Gold. Includes a bundle of Creatures 3, Creatures 3 Update 2, Docking Station, and a number of environment extras and tools (many with multilingual variants).
Creatures: The Albian Years. Includes Creatures and Creatures 2.
Creatures Exodus. Includes Creatures 3 and Docking Station, plus a selection of new Norn breeds on one disk.
Creatures Village. Includes Creatures Adventures and Creatures Playground, merged and updated for improved Windows XP compatibility.
Creatures Triple Collection. Includes The Albian Years, Creatures Exodus and Creatures Village.
Links to other series
| Direction | Series | Date | Description | Type |
| --- | --- | --- | --- | --- |
| | MediEvil | | On Albia, a picture of Zarok can be found under a windmill. | 2 |
| | SilverLoad | | On Albia, a picture of a stuffed vulture from SilverLoad can be found under a windmill. | 2 |