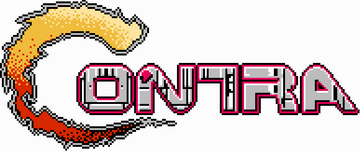 For detailed information about this series, see: Contra on Wikipedia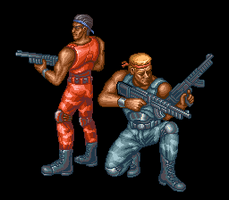 Contra is a run-and-gun style shoot-em-up game by Konami.
Video Games
Contra (Feburary 20, 1987). Arcade. Later released on NES, PlayChoice-10, MSX2, ZX Spectrum, Amstrad CPC, Commodore 64, MS-DOS, Mobile phones, PlayStation 2 and Xbox 360.
Super Contra (January 8, 1988). Arcade. Later released on NES (under the name Super C), PlayChoice-10, Commodore Amiga, IBM PC, Mobile phones and Xbox 360. Re-released in 2008 for Wii Virtual Console, in 2012 for Nintendo 3DS Virtual Console and 2014 for Wii U Virtual Console. The NES version was also enclosed in the NES Classic Edition.
Operation C (January 8, 1991). Game Boy and Game Boy Color.
Contra III: The Alien Wars (Feburary 28, 1992). SNES. Later released on Game Boy, Game Boy Color and Game Boy Advance. Re-released in 2007 for Wii Virtual Console and 2013 for Wii U Virtual Console.
Contra Force (September 30, 1992). NES. Originally an unrelated game titled "Arc Hound" that went unreleased in Japan.
Contra: Hard Corps (Augest 8, 1994). Sega Genesis/Mega Drive.
Contra: Legacy of War (November 30, 1996). PlayStation and Sega Saturn.
C: The Contra Adventure (August 31, 1998). PlayStation.
Contra: Shattered Soldier (October 22, 2002). PlayStation 2.
Neo Contra (October 19, 2004). PlayStation 2 and PlayStation 3.
Contra 4 (December 12, 2007). Nintendo DS and Mobile phones.
Contra Xīngjì Zhànzhēng (2009). A Chinese-exclusive game for Java cellphones.
Contra ReBirth (May 12, 2009). WiiWare.
Contra: Evolution (2010). A Chinese remake of the original for Mobile phones. Released as an Arcade game in 2011, and for iOS systems in 2013.
Hard Corps: Uprising (Feburary 16, 2011). PlayStation 3 and Xbox 360.
Contra 3D (2013). Pachislot.
Contra Returns (June 6, 2017). Mobile phones.
Links to Other Series
| Direction | Series | Date | Description | Type |
| --- | --- | --- | --- | --- |
| | Alien | | The Contra series takes inspiration from the Alien series. | 3 |
| | Rambo | | Several boxarts and images in the Contra series are based on promotional images and stills from Rambo movies. | 3 |
| | Predator | | Bill Rizer's art in the boxart of the NES Contra port is traced from a still of Schwarzenegger's character in Predator. | 3 |
| | Blades of Steel | | An ad for Contra appears during intermissions in Blades of Steel. | 2 |
| | Snatcher | | Bill and Lance are at The Outer Heaven Show Pub. Stage 3 in Contra III: The Alien Wars (Neo Kobe Steel Factory) is set in Neo Kobe, the setting of Snatcher, and feature Snatcher-looking androids as end bosses. | 1 |
| | The Wizard | | During Jimmy's Training Contra is shown as one of the games he plays. | 2 |
| | Nester | | In episode 13 of the Howard & Nester comic, Nester meets with Bill and Lance from Contra. | 1 |
| | Konami Wai Wai World | | Bill Rizer is a playble character in Wai Wai World 2: SOS!! Parsley Jō. | 1 |
| | Castlevania | | The secret boss Simondo Belmont from Contra: Hard Corps is a parody of Simon Belmont, including the use of a whip and hitting candles for power ups. In Order of Eclessia, the boss Arthroverta is inspired by Shadow Beast Kimkoh from the NES port of Super Contra. | 3 |
| | Alien Soldier | | Wolfgunblood Garopa from Alien Soldier uses modified sprites of Brad Fang from Contra: Hard Corps. | 3 |
| | Jikkyō Power Pro Wrestling | | Bill and Lance from Contra are selectable characters in Jikkyō Power Pro Wrestling '96: Max Voltage. | 1 |
| | Pac Man | | A Pac-Man-themed minigame featuring tanks can be found as an Arcade and played in Contra: Legacy of War. | 3 |
| | Gyruss | | A Gyruss clone minigame can be found as an Arcade and played in Contra: Legacy of War. | 3 |
| | TwinBee | | Characters from Contra make a cameo appearance on TwinBee PARADISE in Donburi Shima. | 1 |
| | Konami GB Collection | | Operation C is included in Konami GB Collection Vol. 1. | 3 |
| | Rocket Knight | | In a special ending from Shattered Soldier Bill and Lance find Sparkster and attack him, while in the special ending from Rocket Knight Sparkster gets attacked by Bill. | 1 |
| | Nano Breaker | | Jaguar from Neo Contra is a playable character in Nano Breaker. | 1 |
| | Best Student Council | | A hand puppet named after Lance Bean from Contra appears in Episode 19 of Best Student Council. | 2 |
| | Power Pro Kun Pocket | | A mini-game in Power Pro Kun Pocket 8 is based on Contra. | 3 |
| | GameCenter CX | | Arino plays the NES port of Contra in Episode 32 of GameCenter CX. | 2 |
| | Rumble Roses | | The ending theme from Neo Contra is reused in Rumble Roses XX. | 3 |
| | Konami Classics | | The original Contra is included in Konami Classics Series: Arcade Hits. Konami Classics Vol. 1 includes Super Contra, while Konami Classics Vol. 2 includes the original Contra. | 3 |
| | Gradius | | A weapon used in two Challenge missions from Contra 4 shoots miniature Vic Vipers. Contra ReBirth features several references to the Gradius series. | 1 |
| | Beatmania | | The theme "Battle Train -IIDX Edition-" from the PlayStation 2 version of Beatmania IIDX 15: DJ Troopers is a remix from Neo Contra. | 3 |
| | Teenage Mutant Ninja Turtles | | A background NPC skateboard girl from Teenage Mutant Ninja Turtles II: The Arcade Game makes a minor cameo in Contra ReBirth. | 1 |
| | 3D Dot Game Heroes | | 3D Dot Game Heroes features a loading screen based on Contra. | 3 |
| | Silent Hill | | A Contra Arcade can be found in Silent Hill: Shattered Memories. | 2 |
| | The Expendables | | The Expendables Game takes inspiration in visual and gameplay from Contra. | 3 |
| | Shantae | | Shantae: Risky's Revenge features a dialogue reference to the intro of Super Contra. | 3 |
| | Robot Chicken | | Contra is parodied in the season 5 episode "Catch Me If You Kangaroo Jack" from Robot Chicken. | 3 |
| | Otomedius | | A restaurant named "Contra Burger" appears in Otomedius Excellent. A DLC stage's BGM is a remix of Contra's "Alien Lair" theme. | 3 |
| | Frogger | | Frogger: Hyper Arcade Edition features a game mode based on Contra. | 1 |
| | Video Game High School | | The "High School Video Game" shown in the Video Game High School episode "Double XP Weekend" features levels based on Contra. | 3 |
| | Bomberman | | Two DLC bombermen from Super Bomberman R known as "Bill Bomber", and "Lance Bomber" are based off the protagonists from the Contra series. | 3 |