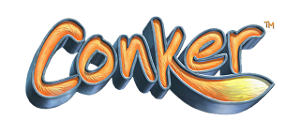 For detailed information about this series, see: Conker Wiki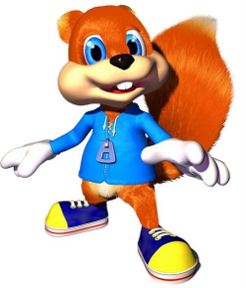 Conker is a series made by Rare which was later owned by Microsoft.
Video Games
Conker's Pocket Tales (June 8th 1999) for Game Boy Color
Conker's Bad Fur Day (March 5th 2001) for N64 and Xbox One.
Conker: Live & Reloaded (June 21st 2005) for Xbox
Conker's Big Reunion,a Conker's game in Project Spark(June 2014)for PC and Xbox One.
Young Conker(TBA 2017)for Microsoft Hololens.
Links to other series
Commercial Link:(Conker also appear in the Xbox Rareware commercial along with many other Rareware characters If you want to see it Click Here to see the page).
| Direction | Series | Date | Description | Type |
| --- | --- | --- | --- | --- |
| | Diddy Kong Racing | | Conker is selectable in Diddy Kong Racing. | 1 |
| | Banjo-Kazooie | | Banjo-Kazooie and Banjo-Kazooie: Nuts & Bolts feature references to the Conker series, while Conker's Bad Fur Day features references to the Banjo-Kazooie series. | 2 |
| | N-Gang | | Conker appears in the N-Gang episode "Freeze Frame". | 1 |
| | Donkey Kong | | Conker plays a tune from Donkey Kong in Conker's Poket Tales. | 2 |
| | Pokémon | | In Conker's Bad Fur Day there was going to be a joke about Pikachu's Expense however the Nintendo asked to remove it and all that's left in the code is a model of Pikachu's Tail. | 1 |
| | Alien | | In Conker's Bad Fur Day there is a parody of the Xenomorphs from Alien. | 3 |
| | Dracula (1992) | | In Conker's Bad Fur Day there is a parody of the 1992 film Dracula. | 3 |
| | Saving Private Ryan | | In Conker's Bad Fur Day there is a parody of Saving Private Ryan. | 3 |
| | The Matrix | | In Conker's Bad Fur Day there is a parody of The Matrix. | 3 |
| | A Clockwork Orange | | In Conker's Bad Fur Day there is a parody of A Clockwork Orange. | 3 |
| | Terminator | | In Conker's Bad Fur Day there is a parody of The Terminator from Terminator. | 3 |
| | Scream | | In Conker's Bad Fur Day, Ghostface from Scream can be found in the river. | 1 |
| | Killer Instinct (Rare) | | Conker's Bad Fur Day and Conker: Live & Reloaded feature idle animations where Conker plays a handheld console emitting 8-bit renditions of themes from Killer Instinct, while Rash's "Rarewear" accessories in the 2013 Killer Instinct game include a Conker hood. | 2 |
| | Minecraft | | Minecraft for Xbox 360 features a downloadable skin based on Conker in Skin Pack 3. | 2 |
| | Project Spark | | In a E3 Trailer for Project Sparx Conker makes an appearance. | 1 |
| | Rare Replay | | Rare Replay includes Conker's Bad Fur Day as a playable game. | 2 |