This page explains in detail the interactions between the Coins in the Fountain series and the Mario series.
Mario is Missing!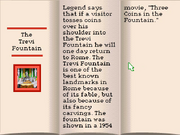 19921231 December 31, 1992
Coins in the Fountain5

Mario
Mario is Missing! is an educational game where Luigi has to return to their proper locations various items stolen by the Koopas from famous landmarks.
One of the landmarks in Rome is the Trevi Fountain, and the items stolen are some coins. The DOS version of the game features pamphlets for each landmark, and the one about the Trevi Fountain cites the movie Three Coins in the Fountain.
License
The Software Toolworks that produced Mario is Missing!, had no right over Three Coins in the Fountain, but they only included a minor reference to the movie.