This page explains in detail the interactions between the Chowder series and the Mario series.
Chowder episode Sniffleball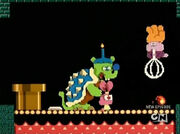 200836 March 6, 2008

In the first segment of the tenth episode of the series, Chowder must run 14 bases in a game of sniffleball so that he can leave the game. One of the bases is shown in an 8-bit area area that resembles a castle in Super Mario Bros. Chowder jumps over some fireballs shot by Gorgonzola, that here impersonates Bowser, then jumps on his head and to the base. Gazpacho then comes out of a Warp Pipe to declare him "safe".
Chowder episode Chowder and Mr. Fugu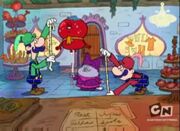 200851 May 1, 2008

In the second segment of the twelfth episode of the series, when Chowder stops at a restaurant where "every dish is different", the two men that take his order greatly resemble Mario and Luigi.
Chowder episode Big Ball
200959 May 9, 2009

In the first segment of the twelfth episode of season 2 (Episode #32a), the Team Macadamia hat worn by many characters is red with a red "M" on a white disk, therefore resembling Mario's hat. The reference is confirmed by another one: at the end of the episode a giant turtle looking like Bowser rises from below the stadium and throws it in the garbage, saying "Game Over".
License
The creators of Chowder held no right over Nintendo's Mario, but they only included subtle references to the series.