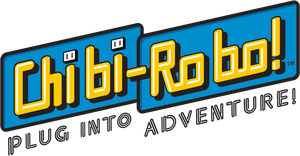 For detailed information about this series, see: Chibi-Robo Wiki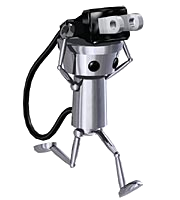 Chibi-Robo! is a series of adventure videogames by Nintendo starring the titular little robot. The released games are:
Chibi-Robo! (June 23, 2005), GameCube, fully titled Chibi-Robo! Plug Into Adventure!. It was also released in 2009 for Wii only in Japan in the "New Play Control!" series.
Chibi-Robo!: Park Patrol (July 5, 2007), Nintendo DS.
Okaeri! Chibi-Robo! Happy Richie Osoji! (July 23, 2009), Nintendo DS.
Jissha de Chibi-Robo! (July 3, 2013), Nintendo 3DS. Known as Chibi-Robo! Photo Finder outside Japan.
Chibi-Robo!: Zip Lash (October 8, 2015), Nintendo 3DS. An action-platformer game. A special edition boundled with an exclusive Chibi-Robo amiibo was also released.
Additionally, a short animated cartoon was created to promote the game, and is available online.
Links to other series
| Direction | Series | Date | Description | Type |
| --- | --- | --- | --- | --- |
| | Giftpia | | Chibi-Robo! features the dog Tao from Giftpia. | 1 |
| | Wrecking Crew | | Eggplant Man from Wrecking Crew makes an appearance in Chibi-Robo! | 1 |
| | Primopuel | | A Primopuel toy makes an appearance in Chibi-Robo! | 2 |
| | Tamagotchi | | A Tamagotchi toy makes an appearance in Chibi-Robo! | 2 |
| | Captain Rainbow | | Gitchoman (Drake Redcrest) from Chibi-Robo! makes an appearance in Captain Rainbow; a picture of Captain Rainbow can be found in Okaeri! Chibi-Robo! Happy Richie Osoji!. | 1 |
| | Mario | | Okaeri! Chibi-Robo! Happy Richie Osoji! and Chibi-Robo! Zip Lash feature items based on the Mario series, while Super Mario Maker features a costume based on Chibi-Robo. | 2 |
| | Zelda | | Okaeri! Chibi-Robo! Happy Richie Osoji! features the Triforce from the Zelda series as an item. | 2 |
| | Tingle | | A robot looking like Chibi-Robo makes an appearance in Tingle's Balloon Trip of Love. | 3 |
| | Splatoon | | Chibi-Robo! Zip Lash features compatibility with the Splatoon amiibo, unlocking poses based on the characters. | 2 |
| | Kirby | | Kirby: Planet Robobot features compatibility with the Chibi-Robo amiibo. | 3 |
| | Super Smash Bros. | | Various characters from Chibi-Robo appear as spirits in Super Smash Bros. Ultimate. Additionally Super Smash Bros. Brawl features two trophies and six stickers based on Chibi-Robo, while Super Smash Bros. for Nintendo 3DS features a trophy from the series; Chibi-Robo! Zip Lash also features compatibility with the Super Smash Bros. amiibo. | 1 |