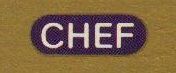 For detailed information about this series, see: Chef at In the Attic
Chef
is a videogame released by Nintendo in the Game & Watch Wide Screen series on September 8, 1981. The game features two buttons to move left and right a chef, who has to cook three meals at once, by throwing them in the air to get a another one in the pan.
The game was also included in Game & Watch Gallery 2, released for Game Boy on September 27, 1997, and in Game & Watch Gallery Advance, released for the Game Boy Advance on October 25, 2002. In these collections it's featured in a "Classic" version, loyal to the original, and a "Modern" version, with updated gameplay and graphics featuring Mario characters.
In 2009 a port of the original game was also made available for the Nintendo DSiWare.
Links to other series
| Direction | Series | Date | Description | Type |
| --- | --- | --- | --- | --- |
| | Game & Watch Gallery | | Chef is included in Game & Watch Gallery as one of the "Gallery" games and in Game & Watch Gallery 2 and Game & Watch Gallery Advance as a playable game. | 2 |
| | Mario | | UNDIRECT: Modern Chef within Game & Watch Gallery 2 and Game & Watch Gallery Advance features elements from the Mario series. | 1 |
| | Super Smash Bros. | | In one of Mr. Game & Watch's moves he uses the pan and food from the Game & Watch game Chef; one of the scenarios in the "Flat Zone 2" stage in Super Smash Bros. Brawl takes place in Chef. | 1 |
| | DS Oryori Navi | | The Game & Watch game Chef is unlockable in Cooking Guide/Personal Trainer: Cooking. | 2 |