This page explains in detail the interactions between the Carrie's Order Up! series and the Indie Pogo series.
Indie Pogo
July 10, 2018
Carrie's Order Up!5

Indie Pogo
Indie Pogo features a trophy of Carrie. It can be unlocked from the Gachapon. Unlocking this trophy causes Carrie to appear in the background crowd of the character select screen, and possibly appear during a pogo combo during battle.
Trophy description: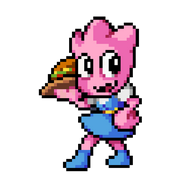 When Carrie showed up to work one day to a notice of closure on the restaurant door, she knew she was the only crab with enough pizzazz to keep it afloat. She tirelessly runs, carries, & spins through an array of rambunctious customers in classic arcade fashion!
License
Ink Dragon Works gave permission to Lowe Bros. Studios to use Carrie in Indie Pogo.