For detailed information about this series, see: Captain N Wiki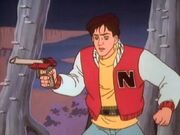 Captain N: The Game Master, or Captain N for short, is an animated TV series produced by Nintendo and DiC about a teenager who gets sucked into his NES to become Captain N, hero of Videoland, a world inhabited by many videogame characters.
The animated show aired in three seasons from September 9, 1989 to October 26, 1991, for a total of 34 episodes.
A comic book based on the tv show was published by Valiant in 1990 as part of the Nintendo Comics System in 26 chapters.
From September 14, 1992 to September 3, 1993, the TV show was syndicated along with episodes from The Adventures of Super Mario Bros. 3, The Legend of Zelda and Super Mario World, in the block titled Captain N & The Video Game Masters.
Links to other series
| Direction | Series | Date | Description | Type |
| --- | --- | --- | --- | --- |
| | Metroid | | Mother Brain is the main villain in the Captain N TV show, while Samus appears in the comic. | 1 |
| | Castlevania | | Simon Belmont and Dracula from Castlevania is a recurring character in the Captain N TV show. | 1 |
| | Kid Icarus | | Pit and the Eggplant Wizard are recurring characters in Captain N. | 1 |
| | Mega Man | | Mega Man and Dr. Wily are recurring characters in the Captain N TV show; the Captain N version of Mega Man then appears in the "Short Circuit" page on the Archie Mega Man comic, issues 49 and 55. | 1 |
| | Punch-Out!! | | King Hippo is a recurring character in the Captain N TV show, while Glass Joe makes a cameo in the episode "Videolympics". Little Mac makes an appearance in the Captain N comic. | 1 |
| | Donkey Kong | | Donkey Kong is a recurring character in Captain N: the Game Master. | 1 |
| | Mario | | Captain N: The Game Master features some references to the Mario series; episodes from The Adventures of Super Mario Bros. 3 and Super Mario World were featured in Captain N & the Video Game Masters. | 2 |
| | The Adventures of Bayou Billy | | The Captain N: The Game Master episode "How's Bayou" features elements from The Adventures of Bayou Billy. | 1 |
| | Three Men and a Baby | | The Captain N: The Game Master episode "Three Men and a Dragon" is a parody of Three Men and a Baby. | 3 |
| | Dragon Quest | | The Captain N: The Game Master episodes "Three Men and a Dragon" and "The Trojan Dragon" feature elements from Dragon Warrior. | 1 |
| | Wizards & Warriors | | The Captain N: The Game Master episodes "Nightmare on Mother Brain's Street" and "In Search of the King" feature elements from Wizards & Warriors. | 1 |
| | Star Trek | | The Captain N: The Game Master episode "Simon the Ape-Man" features a reference to Star Trek. | 2 |
| | Batman | | The Captain N: The Game Master episode "Simon the Ape-Man" features a reference to Batman. | 2 |
| | Star Wars | | The Captain N: The Game Master episode "Simon the Ape-Man" features a reference to Prinsess Leia. | 2 |
| | BurgerTime | | The Captain N: The Game Master episode "Gameboy" features elements from BurgerTime. | 1 |
| | Zelda | | Link and Zelda guest star in three episodes of Captain N. | 1 |
| | Tetris | | The Captain N episodes "The Trouble With Tetris" and "Totally Tetrisized" feature elements from Tetris. | 1 |
| | California Games | | The Captain N: The Game Master episode "The Big Game" features elements from California Games. | 1 |
| | Puss 'n Boots (Toei) | | The Captain N: The Game Master episode "Once Upon a Time Machine" features elements from Puss 'n Boots: Pero's Great Adventure. | 1 |
| | Xanadu | | The Captain N: The Game Master episodes "The Feud of Faxanadu" and "Germ Wars" feature elements from Faxanadu. | 1 |
| | Marble Madness | | The Captain N: The Game Master episode "I Wish I Was a Wombatman" features elements from Marble Madness. | 1 |
| | Paperboy | | The Captain N: The Game Master episode "The Invasion Of The Paper Pedalers" features elements from Paperboy. | 1 |
| | Robin Hood: Prince of Thieves | | The Captain N: The Game Master episode "Misadventures in Robin Hood Woods" might be based on the Robin Hood: Prince of Thieves videogame. | 3 |
| | One on One (Electronic Arts) | | The Captain N: The Game Master episode "Pursuit of the Magic Hoop" is based on Jordan vs. Bird: One on One. | 3 |
| | Family Matters | | The character Hooper from the Captain N: The Game Master episode "Pursuit of the Magic Hoop", might be based on Steve Urkel from Family Matters. | 3 |
| | TV Sports | | The Captain N: The Game Master episode "Battle of the Baseball Know-It-Alls" is based on Bo Jackson Baseball. | 3 |
| | Final Fantasy | | The last episode of Captain N: The Game Master features elements from Final Fantasy. | 1 |
| | Captain S | | The premise for Captain S is based on Captain N. | 3 |
| | Angry Video Game Nerd | | Capitain N was quoted in Nintendo Power episode and in the crossover A very non canonical christmas. | 3 |
| | Nostalgia Critic | | The Nostalgia Critic reviews "Captain N". | 2 |