For detailed information about this series, see: Captain Commando on Wikipedia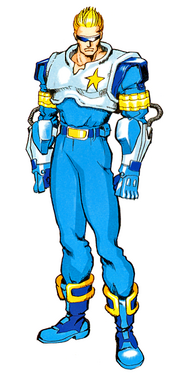 Captain Commando is a series of side-scrolling beat'em up video games by Capcom.
Video Games
Captain Commando (November 1991). Arcade. Later released on SNES and PlayStation.
Manga
Captain Commando (1994), a 2-volume manga series written by Kenkou Tabuchi and illustrated by Kotomi Tobashi, originally published as part of the Gamest Comics series. Translated by UDON Studio in 2013.
Other Media
Captain Commando Challenge Series (1986-1989). An unifying term created by Capcom USA which appeared in the packaging of several of their NES games. This is Captain Commando's actual origin media, depicting him as a space-faring super hero thanking the player for purchasing the game in question.
Links to other series
| Direction | Series | Date | Description | Type |
| --- | --- | --- | --- | --- |
| | 194X | | The NES ports of 1942 and 1943: The Battle of Midway are part of the Captain Commando Challenge Series. | 2 |
| | Commando (Capcom) | | The NES port of Commando is part of the Captain Commando Challenge Series. | 2 |
| | Ghosts 'n Goblins | | The NES port of Ghosts 'n Goblins is part of the Captain Commando Challenge Series. | 2 |
| | Trojan | | The NES port of Trojan is part of the Captain Commando Challenge Series. | 2 |
| | Section Z | | The NES port of Section Z is part of the Captain Commando Challenge Series. The English manual also states Captain Commando to be the main character. | 1 |
| | Mega Man | | Mega Man and Mega Man 2 are part of the Captain Commando Challenge Series. | 2 |
| | Gun.Smoke | | The NES port of Gun.Smoke is part of the Captain Commando Challenge Series. | 2 |
| | Bionic Commando | | The NES port of Bionic Commando is part of the Captain Commando Challenge Series. | 2 |
| | Willow | | The NES version of Willow is part of the Captain Commando Challenge Series. | 2 |
| | Strider | | The NES version of Strider is part of the Captain Commando Challenge Series. | 2 |
| | DuckTales | | Capcom's DuckTales for the NES is part of the Captain Commando Challenge Series. | 2 |
| | Final Fight | | Ginzu from Captain Commando has ties to Guy from Final Fight. The setting of Captain Commando is a future version of Metro City, the setting of Final Fight, and a bust of Haggar appears as an item. | 1 |
| | Nausicaä | | The boss character "Monster" in Captain Commando looks remarkably similar to the Heedra from Nausicaä Of The Valley Of The Wind. | 3 |
| | Adventure Quiz | | Adventure Quiz: Capcom World 2 features characters from Captain Commando. | 1 |
| | Marvel Super Heroes (Capcom) | | Marvel Super Heroes vs. Street Fighter features references to Captain Commando. | 2 |
| | Marvel vs. Capcom | | Captain Commando is a playable character in Marvel vs. Capcom and Marvel vs. Capcom 2. | 1 |
| | SNK vs. Capcom | | Various Captain Commando characters are featured in SNK vs. Capcom: Card Fighters games. | 2 |
| | Namco × Capcom | | Namco × Capcom features characters from Captain Commando. | 1 |
| | Capcom Classics Collection | | Captain Commando is included in Capcom Classics Collection Remixed and Capcom Classics Collection Volume 2. | 2 |
| | Tatsunoko vs. Capcom | | Baby Head makes a cameo in PTX-40a's ending in Tatsunoko vs. Capcom. | 1 |
| | Lost Planet | | "Captain Commando" is one of the unlockable Nom de Guerres in Lost Planet 2. | 2 |
| | The Punisher | | In Volume 2 of the UDON release of the Captain Commando manga, "Frank Castle" appears in a list of researchers. | 3 |
| | X-Men | | In Volume 2 of the UDON release of the Captain Commando manga, "Kurt Wagner", "Katheryne Pryde" and "Henry McCoy" appear in a list of researchers. | 3 |
| | Daredevil (Marvel) | | In Volume 2 of the UDON release of the Captain Commando manga, "Matthew Michael Murdock" and "Elektra Natchios" appear in a list of researchers. | 3 |
| | Fantastic Four | | In Volume 2 of the UDON release of the Captain Commando manga, "Jonathan Storm" appears in a list of researchers. | 3 |
| | Spider-Man | | In Volume 2 of the UDON release of the Captain Commando manga, "Peter Parker" and "Felicia Hardy" appear in a list of researchers. | 3 |
| | Captain America | | In Volume 2 of the UDON release of the Captain Commando manga, "Steve Rogers" appears in a list of researchers. | 3 |
| | Captain Britain | | In Volume 2 of the UDON release of the Captain Commando manga, "Brian Braddock" appears in a list of researchers. | 3 |
| | Batman | | In Volume 2 of the UDON release of the Captain Commando manga, "R. Dick Grayson" and "Timothy Drake" appear in a list of researchers. | 3 |
| | Street Fighter | | Captain Commando makes a cameo appearance in the intro of Street Fighter × All Capcom; additionally guests costumed as Captain Commando and Ginzu the Ninja make cameos in Street Fighter Alpha 2 and the moves and combat armor of Crimson Viper from Street Fighter IV are inspired by Captain Commando's and Nash receives a costume of the Captain in Street Fighter V: Arcade Edition. | 1 |
| | Minna to Series | | Captain Commando makes a cameo appearance in the intro of Street Fighter × All Capcom. | 1 |
| | Dead Rising | | Captain Commando is featured as a costume for Chuck Greene in Super Ultra Dead Rising 3' Arcade Remix Hyper Edition Ex Plus Alpha, along with his actual moves, and later as a costume for Frank West in Dead Rising 4. | 1 |
| | Skullgirls | | One of the alternate color palettes in Skullgirls is based on Captain Commando. | 3 |
| | Project X Zone | | Project X Zone 2 features characters from the Captain Commando series. | 1 |
| | Capcom Beat'em Up Bundle | | Captain Commando is included in Capcom Beat'em Up Bundle, and the Captain makes an actual appearance in the game's commercial. | 1 |
| | The Knights of Avalon | | Characters from Captain Commando appear as cards in The Knights of Avalon as part of a Capcom limited promotion. | 2 |