This page explains in detail the interactions between the Bloxeed series and the Tetris series.
Bloxeed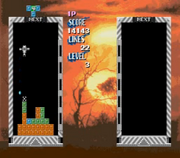 1989

Bloxeed is an unauthorized game using the same exact gameplay as Tetris, also including the same piece shapes. This makes it a Type 3 spin-off to the Tetris series.
While the goal is the same as in Tetris, to clear the highest number of rows as possible, the game features many special items and power ups, such as a bomb that clears an area of the playfield or a satellite that shoots blocks for a limited amount of time.
Sega Ages 2500 Series Vol. 28: Tetris Collection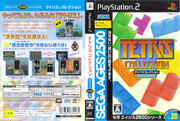 2006928 September 28, 2006

This compilation game includes Sega's version of Tetris, plus Flash Point and Bloxeed.
Being an official Tetris release, this makes Bloxeed a semi-official Tetris game.
License
Sega held no right over Tetris when creating Bloxeed, but they were only inspired by the game, and its copyright status was debated.
Sega however was officially licensed by The Tetris Company to release Sega Ages 2500 Series Vol. 28: Tetris Collection.