For detailed information about this series, see: Bayonetta Wiki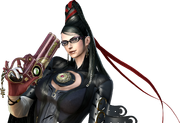 Bayonetta is a series of video games by PlatinumGames starring the titular character, a witch who uses firearms and magical attacks to fight against angelic enemies. Two games were released:
Bayonetta (October 29, 2009) for PS3 and Xbox 360. Also released for Wii U in 2014, for PC in 2017, and for Nintendo Switch in 2018.
Bayonetta 2 (September 20, 2014) for Wii U. Also released for Nintendo Switch in 2018.
Bayonetta 3 (TBA) for Nintendo Switch.
An animated movie based on the first game, titled Bayonetta: Bloody Fate, was released in November 23, 2013. This was also adapted into a manga and released around the same time.
Links to other series
| Direction | Series | Date | Description | Type |
| --- | --- | --- | --- | --- |
| | MadWorld | | MadWorld features a reference to "The Gates of Hell", a bar from Bayonetta, which was being developed at the time. | 1 |
| | Sonic | | Bayonetta features some references to the Sonic series. | 3 |
| | Devil May Cry | | There are several similarities and references to Devil May Cry in Bayonetta, mostly as a nod from the key common members of both series' launch game development teams. | 3 |
| | Viewtiful Joe | | Bayonetta features a references to Viewtiful Joe. | 3 |
| | Resident Evil | | Bayonetta features a reference to Resident Evil 4. | 2 |
| | After Burner | | Bayonetta features a music track from After Burner; the logo of the "Missile Operation" minigame is also based on the After Burner logo. | 3 |
| | OutRun | | Bayonetta features a music track from After Burner. | 3 |
| | Fantasy Zone | | Bayonetta features a music track from Fantasy Zone. | 3 |
| | Space Harrier | | Bayonetta features a minigame based on Space Harrier, also including a music track from the game. | 3 |
| | Virtua Fighter | | A premium Xbox 360 theme of Bayonetta shows the protagonist fighting inside an Arcade fighting game parodying the classic Virtua Fighter titles. Bayonetta also performs one of Akira Yuki's moves. | 3 |
| | Sega Superstars | | Bayonetta was planned to be in Sonic & All Star Racing Transformed, but she was taken out. | 1 |
| | Samurai & Dragons | | The Sega All-Star Pack for Samurai & Dragons includes a card based on Bayonetta. | 1 |
| | Anarchy Reigns | | Bayonetta is DLC for Anarchy Reigns. | 1 |
| | The Wonderful 101 | | Bayonetta, Jeanne, and Rodin are unlockable in The Wonderful 101. | 1 |
| | Zelda | | The Wii U version of Bayonetta and Bayonetta 2 feature a costume based on Link, also including the Master Sword weapon. | 1 |
| | Mario | | Bayonetta 2 features the Chain Chomp from the Mario series as a weapon; a Peach and a Daisy costume also appear in the Wii U version of Bayonetta and in Bayonetta 2. | 1 |
| | Metroid | | The Wii U version of Bayonetta and Bayonetta 2 features the Power Suit from Metroid as a costume, also including the Arm Cannon and Morph Ball functionality. | 1 |
| | Star Fox | | Bayonetta 2 features a costume based on Fox McCloud with Arwing-shaped guns and an Arwing actually appearing in the game. | 1 |
| | Super Smash Bros. | | Super Smash Bros. for Wii U and for 3DS feature Bayonetta as a downloadable character, along with her own stage. | 1 |