For detailed information about this series, see: Unofficial Barcode Battler
Barcode Battler is a series of gaming devices by Epoch, that allow players to use barcodes as cards.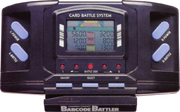 The original Barcode Battler was released only in Japan in 1991 and included a set of 21 pre-made cards.
The Barcode Battler II was released worldwide in 1992, but was simply called Barcode Battler outside Japan. A set of 31 cards was included in every release, but the charcaters and objects depicted were changed for the western market.
Other Japan-only releases are the Barcode Battler II Interface that allows the game to connect with a Famicom or Super Famicom, the Barcode Battler II: C0 and the Barcode Battler II: C2.
Some special card sets only relased in Japan in 1992 include:
G-Series: a set of 31 cards featuring 2 new heroes, 8 new items and 20 enemies previously featured in the single player mode of Barcode Battler II.
Doraemon Barcode Battler Cards: a set of 40 Doraemon themed cards.
Dragon Slayer Barcode Battler Cards: a set of 30 Dragon Slayer themed cards.
Super Mario World Barcode Battler Cards: a set of 30 Mario themed cards.
The Legend of Zelda Barcode Battler Cards: a set of 30 Zelda themed cards.
Barcode Fighter Cards: a set of 30 Barcode Fighter cards.
Also, some exclusive cards were included in videogames.
Some exclusive cards were also made in other countries, such as the Toys 'R' Us "Megatron" card, featuring the character from the image on the Barcode Battler box, or the Italy exclusive "Giochi Preziosi" cards.
Videogames
Two videogames were released in the Barcode Battler series:
Barcode World (18 december 1992), Famicom: a simple Barcode Battler simulator with some visual effects that needs the Barcode Battler II to be played. Included in the game are the Barcode Battler II Interface and a set of 30 cards based on Sunsoft characters.
Barcode Battler: Senki (15 may 1993), Super Famicom: a more complex game that features some different gameplay modes.
Links to other series
| Direction | Series | Date | Description | Type |
| --- | --- | --- | --- | --- |
| | Doraemon | | The Doraemon Barcode Battler Cards set is part of both series; Doraemon 2: Nobita's Great Adventure Toys Land and Doraemon 3: Nobita and the Jewel of Time are also compatible with the Barcode Battler II. | 1 |
| | Dragon Slayer | | The Dragon Slayer Barcode Battler Cards set is part of both series; Dragon Slayer II is also compatible with the Barcode Battler II. | 1 |
| | Mario | | The Super Mario World Barcode Battler Cards set is part of both series. | 1 |
| | Zelda | | The Legend of Zelda Barcode Battler Cards set is part of both series. | 1 |
| | Barcode Fighter | | The Barcode Fighter Cards set set is part of both series. | 1 |
| | Dead Zone | | A Dead Zone card is included in the game Barcode World. | 1 |
| | Blaster Master | | A Blaster Master card is included in the game Barcode World. | 1 |
| | Hebereke | | Four Hebereke cards are included in the game Barcode World. | 1 |
| | The Wing of Madoola | | A Wing of Madoola card is included in the game Barcode World. | 1 |
| | Gimmick! (Sunsoft) | | A Gimmick! card is included in the game Barcode World. | 1 |
| | Lupin III | | Lupin III: Densetsu no Hihou o Oe! features compatibility with the Barcode Battler II. | 3 |
| | Spider-Man | | The Amazing Spider-Man: Lethal Foes features compatibility with the Barcode Battler II. | 3 |
| | Donald Duck | | Donald Duck no Mahou no Boushi features compatibility with the Barcode Battler II. | 3 |
| | Disney's Alice in Wonderland | | Alice no Paint Adventure features compatibility with the Barcode Battler II. | 3 |
| | Pro Yakyuu News! | | Hatayama Hatch no Pro Yakyuu News! Jitsumei Han features compatibility with the Barcode Battler II. | 3 |
| | J.League Excite Stage | | A set of Barcode Battler cards is included in the game J.League Excite Stage '94, which is also compatible with the Barcode Battler II along with its sequel J.League Excite Stage '95. | 3 |