This page explains in detail the interactions between the Avatar (Nick) series and the Punch-Out!! series.
Avatar: The Last Airbender episode The Blind Bandit
200655 May 5, 2006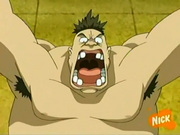 Avatar: The Last Airbender4

Punch-Out!!
The character Big Bad Hippo, debuting in the sixth episode of Season 2 (Episode #26) of Avatar, is a fat wrestler with hippo-like teeth, and therefore looks quite similar to King Hippo from the NES Punch-Out!!
It can't be said for sure, though, that this is an actual reference rather than a coincidence.
License
The creators of Avatar: The Last Airbender held no right over Nintendo's Punch-Out!! but they only included a minor reference to the game.