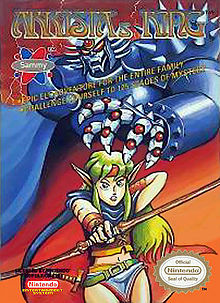 For more detail see:Arkista's Ring at Wikipedia.
Arkista's Ring is a game by Sammy and was realesed in June 1990 for Nintendo Entertainment System.
The story is about The Elven ring of Arkista has been stolen by the villainous Shogun, which has cast the entire Elven Kingdom into darkness. The only hope for the Elves is that the strong warrior Christine, equipped with only a bow, can travel throughout the Kingdom, and retrieve the ring.
Link to other series
| Direction | Series | Date | Description | Type |
| --- | --- | --- | --- | --- |
| | Zelda | | Arkista's Ring is ispired by Zelda series. | 3 |