This page explains in detail the interactions between the Animal Crossing series and the Punch-Out!! series.
Dobutsu no Mori+
20011214 December 14, 2001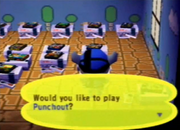 In Dobutsu no Mori+ and its revisions (Animal Crossing and Dobutsu no Mori e+), the complete Famicom/NES game Punch Out!! Featuring Mr. Dream is featured as a playable game, but it's normally unaccessable and was made available only through Nintendo's giveaways.
See here for other NES games included in the game.
Animal Crossing: Let's Go to the City (European version) DLC

20090522 May 22, 2009

To celebrate the release of the Wii game Punch-Out!! a special gift letter was made available in the European version of Animal Crossing: City Folk between may 22 and June 5, 2009.
By connecting to WiiConnect24, the player receives the following letter from Nintendo: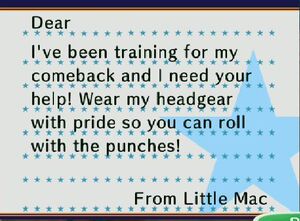 ("Dear" is followed by the player's name)
Attached to the letter is a green training headgear (called "Green Headgear" in-game) for the player's character to wear.
License
Copyrights for both series are held by Nintendo.