This page explains in detail the interactions between the Angry Birds series and the Space Invaders series.
Angry Birds Space
20120322 March 22, 2012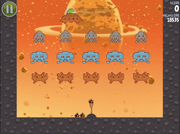 The first Eggsteroid is a homage to Space Invaders, with the wood, glass, and stone made to look like the aliens from that game. There is a pig riding a wood replica of the bonus UFO at the top of the level.
License
The creators of Angry Birds Space held no right over Space Invaders, but they only included a minor reference to the series.