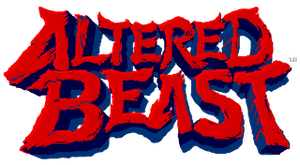 For detailed information about this series, see: Altered Beast at Wikipedia
Altered Beast, called Juoki in Japan, is a series of beat 'em up video games by Sega, centered around fighters with the ability to morph into animals.
Three games have been released:
Altered Beast (1988), Arcade. Later released for Amstrad Amstrad CPC, MSX, TurboGrafx-CD, Commodore 64, Sega Mega Drive/Genesis, Sega Master System, PC, Wii Virtual Console, XLA, PSN and iOS. Also an LCD version was released in 1988 by Tiger Electronics.
Altered Beast: Guardian of the Realms (November 23, 2002), Game Boy Advance.
Project Altered Beast (January 27, 2005), PlayStation 2.
Links to other series
| Direction | Series | Date | Description | Type |
| --- | --- | --- | --- | --- |
| | Alex Kidd | | Altered Beast features a tombstone with the name "Stella" on it, a possible reference to the second player character in Alex Kidd. | 3 |
| | Golden Axe | | Golden Axe features the Cockatrice enemy from Altered Beast as a mountable creature. | 1 |
| | Dynamite Deka | | A Cockatrice enemy from Altered Beast makes a background cameo in the 2nd stage of Dynamite Cop, while the Werewolf and Garuda transformations appear as costumes for Bruno and Cindy in the Sega Ages remake of Dynamite Deka. | 1 |
| | Sega Smash Pack | | The first Sega Smash Pack and Sega Smash Pack Volume 1 for Dreamcast include the Mega Drive/Genesis version of Altered Beast. | 2 |
| | Sega Mega Drive Collection | | Sega Mega Drive Collection and Sega Mega Drive Ultimate Collection include the Mega Drive/Genesis version of Altered Beast, while its arcade version is unlockable in the PlayStation 2 version of Sega Mega Drive Collection and in Sega Mega Drive Ultimate Collection. | 2 |
| | Captain S | | Captain S enters the world of Altered Beast. | 2 |
| | Wreck-It Ralph | | Neff from Altered Beast makes an appearance in Wreck-It Ralph. | 1 |
| | Samurai & Dragons | | The Sega All-Star Pack 2 for Samurai & Dragons includes a card based on the warewolf from Altered Beast. | 1 |
| | Project X Zone | | The Centurion from Altered Beast makes a cameo appearance in Project X Zone 2. | 1 |
| | Power Drift | | The Centurion from Altered Beast is unlockable in the retail release of 3D Power Drift. | 1 |