This page explains in detail the interactions between the Ace Combat series and the Metroid series.
Ace Combat: Assault Horizon Legacy +
20150129 January 29, 2015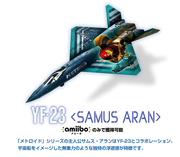 This remake of Ace Combat: Assault Horizon Legacy includes twelve new Nintendo-themed aircraft. One of these is YF-23 <SAMUS ARAN>, themed after Metroid and unlocked by using Samus's amiibo or Zero Suit Samus's amiibo from the Super Smash Bros. line (though amiibo from the Metroid series, released later, are also compatible). For a complete list see Nintendo aircraft in Ace Combat.
The YF-23 <SAMUS ARAN> is based on the YF-23 Black Widow II and it features a space theme with an image of Samus from Metroid: Other M, and the series' name on the fuselage as well as on the right wing.
License
In an agreement between Nintendo and Bandai Namco, Nintendo-exclusive content was included in the game.