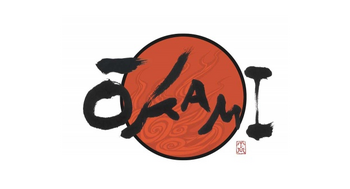 For detailed information about this series, see: Okami Wiki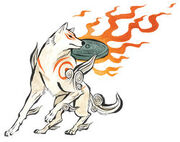 Ōkami is an action-adventure video game series by Capcom.
Video Games
Ōkami (April 20, 2006). PlayStation 2. Later released on Wii. An HD remaster was also released on PlayStation 3 and later on PlayStation 4, Xbox One and PC.
Ōkamiden (September 30, 2010). Nintendo DS.
Publications
Ōkami Emonogatari, two children storybooks released in Japan in 2009 and 2010.
Links to other series
| Direction | Series | Date | Description | Type |
| --- | --- | --- | --- | --- |
| | Final Fight | | Ōkami billboards and paitings are visible in Final Fight: Streetwise. | 2 |
| | Viewtiful Joe | | Ōkami makes several references to Viewtiful Joe. | 3 |
| | Devil May Cry | | Ōkami makes several references to Devil May Cry. | 3 |
| | God Hand | | The Chihuahua "Amaterasu" in the Chihuahua race minigame from God Hand is named after Ōkami's protagonist. | 3 |
| | South Park | | Boxes of Ōkami can be seen in the season 10 episode "Go God Go" of South Park. | 2 |
| | The Simpsons | | The Simpsons Game features a statue of Santa's Little Helper dressed up as Amaterasu from Ōkami. | 2 |
| | Tatsunoko vs. Capcom | | Yami from Ōkami is the final boss in Tatsunoko vs. Capcom. | 1 |
| | Bayonetta | | Bayonetta features several references to Ōkami. | 3 |
| | Marvel vs. Capcom | | Amaterasu is playable in Marvel vs. Capcom 3 and Ultimate Marvel vs. Capcom 3. | 1 |
| | Nazo Waku Yakata | | The bonus chapter in Nazo Waku Yakata features a cameo of Amaterasu and Chibiterasu from Ōkami. | 1 |
| | Asura's Wrath | | Amaterasu and Issun from Ōkami make a cameo appearance during Interlude 10 in Asura's Wrath. | 1 |
| | Onimusha | | Chibiterasu, Issun, Kurow, Kagu and Kuni from Ōkamiden appear in Onimusha Soul. | 1 |
| | Project X Zone | | The item "Divine Implements" references Ōkami. | 3 |
| | Minna to Series | | Minna to Capcom All Stars and Street Fighter × All Capcom feature characters from Ōkami. | 1 |
| | Game Dev Tycoon | | Game Dev Tycoon features a poster from Ōkami. | 2 |
| | The Wonderful 101 | | The Wonderful 101 features a reference to Ōkami. | 3 |
| | Street Fighter | | Amaterasu, Issun, Susano, Waka, Oki, Sakuya and Yami from Ōkami are selectable in Street Fighter × All Capcom, while there's a reference to Akuma's "Shun Goku Satsu" in Ōkami. | 1 |
| | Otoranger | | Amaterasu, Issun, Oki, Susano, Sakuya and Kushi from Ōkami are featured in Otoranger. | 1 |
| | Mega Man | | The world of Ōkami is visited in Sonic and Megaman: Worlds Unite Part 9 - Infinite Possibilities, including appearances of Amaterasu and Issun. | 1 |
| | Sonic | | The world of Ōkami is visited in Sonic and Megaman: Worlds Unite Part 9 - Infinite Possibilities, including appearances of Amaterasu and Issun. | 1 |
| | Monster Hunter | | Monster Hunter Generations features a special felyne armor based on Amaterasu from Ōkami and a miniature version of her Glaive. | 2 |
| | Puzzle Fighter | | The Ninetails Arena from Ōkami is a stage in Puzzle Fighter. | 1 |
| | Dead Rising | | Art books of Ōkami appear in the backgrounds of Dead Rising 4, while its update Dead Rising 4: Frank's Big Package features an Amaterasu costume in "Capcom Heroes" mode, along with her actual moves. | 1 |
| | Dota | | Amaterasu is available as a courier as pre-order bonus of Ōkami-HD on Steam. | 1 |